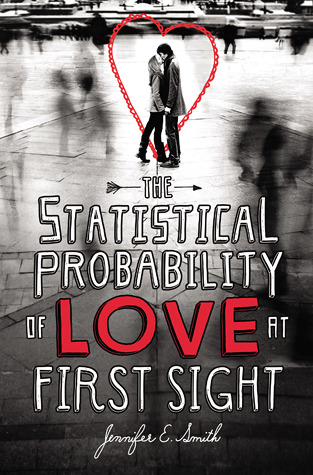 The Statistical Probability of Love at First Sight

by Jennifer E. Smith
on January 2, 2012
Pages: 236
Format: eARC
Source: the author or publisher
Buy on Amazon
Goodreads

Four minutes changes everything. Hadley Sullivan 17 misses her flight at JFK airport, is late to her father's second wedding in London with never-met stepmother. Hadley meets the perfect boy. Oliver is British, sits in her row. A long night on the plane passes in a blink, but the two lose track in arrival chaos. Can fate bring them together again?
I received this book for free from the author or publisher in exchange for an honest review. This does not affect my opinion of the book or the content of my review.
Review: 
 Who would have guessed that four minutes could change everything?
The Statistical Probability of Love at First Sight is a feel-good story. It has all the right makings of a sweet love story while also maintaining the real bones of the story, Hadley's familial issues. The story gave me butterflies, made my heart ache, and brought me so much joy. It was definitely a bit of a roller coaster.
When Hadley misses her flight from JFK to London by just four minutes, she doesn't realize her life is about to veer in an unexpected direction. While Hadley sulks around the airport, she meets a sweet and charming Englishman name Oliver. The best part? They're on the same flight! While Hadley regales Oliver with her woes about her trip, he listens with rapt attention. Oliver helps Hadley take her mind of her father's impending wedding by making her laugh. It's clear that there is chemistry between them but when they disembark from the flight and enter customs, they lose each other. Will fate intervene and bring them together again?
While the story begins with Hadley meeting Oliver and gives us a glimpse into their undeniable chemistry, it's clear that their romance isn't the main focus of the story. Hadley is despondent about her father's wedding and isn't entirely upset about missing her flight. It's clear that Hadley harbors some deep resentment towards both her father and his soon-to-be wife. I enjoyed seeing Hadley, her father, and his fiance figure each other out. It was nice that the author chose to focus on Hadley's familial issues as the underlying plot to drive the story.
I really enjoyed both Hadley and Oliver. They both felt authentic, as did their relationship. There was an ease to which they got to know each other. It was easy to see why Hadley was so smitten with Oliver. He was goofy, sweet, and kind. I always love the boys that charm the girls with manners and civility rather than arrogance. I also liked that they felt comfortable enough with each other to divulge the darker parts of their families. Hadley told Oliver about her father's affair and Oliver told Hadley about his father's callousness.
This book didn't have any unnecessary drama, which I appreciated. Both Hadley and Oliver faced issues that any normal teenager might face. It made the story relatable and I can see it being well-received by teens struggling with similar issues. The only complaint I have is that the story moved rather slowly in the beginning. While it was still and easy read, I didn't feel completely captivated until I was about 1/4 of the way in. I also felt that Hadley's issues with her father and his wife were resolved rather quickly. I wish the conflict and resolution had been fleshed out a little more.
Overall, I enjoyed The Statistical Probability of Love and First Sight and plan to continue reading Smith's other books. If you like YA that gets to the heart of familial issues with a little bit of sweet romance thrown in, I would definitely recommend this one to you.
---