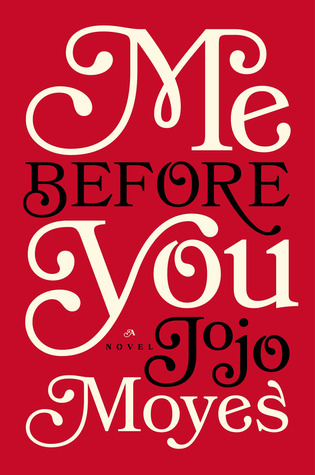 Me Before You

by Jojo Moyes
on December 31, 2012
Pages: 369
Format: eBook
Buy on Amazon
Goodreads

Lou Clark knows lots of things. She knows how many footsteps there are between the bus stop and home. She knows she likes working in The Buttered Bun tea shop and she knows she might not love her boyfriend Patrick.

What Lou doesn't know is she's about to lose her job or that knowing what's coming is what keeps her sane.

Will Traynor knows his motorcycle accident took away his desire to live. He knows everything feels very small and rather joyless now and he knows exactly how he's going to put a stop to that.

What Will doesn't know is that Lou is about to burst into his world in a riot of colour. And neither of them knows they're going to change the other for all time.
Review: 
I told him a story of two people. Two people who shouldn't have met, and who didn't like each other much when they did, but who found they were the only two people in the world who could possibly have understood each other.
I was told over and over that Me Before You was going to rip my heart out and each and every person who told me this was absolutely right. This book was one of the most powerful and possibly one of the most controversial books I have ever read. I cannot stop thinking about Lou and Will and their families. It's rare that I feel so deeply affected by a book but my reaction to this story has been all over the place. This book has made me really think and I am positive it is going to stick with me for along time.
Will Traynor used to live a big life. He spent his free time travelling, hiking, bungee jumping, and skydiving. He thrived on the competitive nature of his job. However, that all changed when he was struck by a motorist and suffered a devastating spinal cord injury. Will is classified as a C5-6 quadriplegic with very limited movement in one of his arms. This left will unable to care for himself and thus his family hired 24 hour care to help with his needs. Much to Will's disapproval, his family decides to hire someone to act as a companion to him.
This is where Louisa (Lou) comes enters. Lou has just lost her job at the local cafe, and after a series of unfortunate jobs, she's desperate to find something she can tolerate. This leads Lou to interview with the Traynor's. Lou has no experience in the medical field but something about her intrigues Mrs. Traynor (Will's mother) and so Lou is hired.
The relationship between Will and Lou is turbulent. Will does anything and everything to push Lou away. He is downright nasty to her. Lou is determined to ride this job out, not just for herself, but for the family she helps support. While I had empathy for Will, his attitude towards Lou made me cringe. Will is not an easy character to like. He's rude, condescending, and abrasive. Obviously, this is understandable given his situation but at times I couldn't believe how he treated Lou. Luckily, Lou held her own which made me respect her so much. She wasn't afraid to put Will in his place and I loved that. I really think this why Will was able to form a friendship with Lou. I really liked how their relationship progressed from hate to respect to love.
This book is marketed as a romance. While there were definitely romantic elements, I think this book was mostly about Will and Lou's choices and how they affected the people around them. It is also about how Will and Lou impact each other's lives. As they get to know each other, they form an easy friendship. Lou learns how to navigate Will's tumultuous moods and Will learns how to get Lou to open up.  Lou and Will challenge each other in ways they never expected.
This book is really hard to review without spoiling it. While it was definitely heartbreaking, there were plenty of moments of hilarity and joy. This book was so much more than a love story, it embodied so many different life lessons: don't take your life for granted, follow your heart, cherish each and every moment because you never know what can happen in the blink of an eye, and most importantly find yourself and what makes you happy.
It must be said that this book will not appeal to some readers' moral codes. Some people may find this book offensive due to some of the subject matter. I will say that while it is hard for me to relate or even consider the subject matter, it has made me think and it has lead to some interesting discussions with other people.
Overall, I really enjoyed Me Before You. It was a gripping and engaging story that left me pondering my view of certain life choices. If you like books that make you think and feel, this book is for you.I suggest readers delve into it with an open mind and without the expectation of an epic love story. I am anxious to read the follow-up to this story which came out (yesterday) September 29, 2015!
---