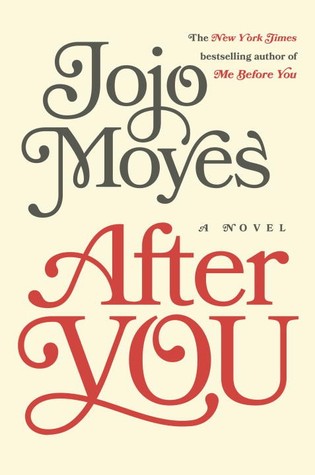 After You

by Jojo Moyes
on September 23, 2015
Genres: contemporary, romance, women's fiction
Pages: 353
Format: eARC
Buy on Amazon
Goodreads

How do you move on after losing the person you loved? How do you build a life worth living?

Louisa Clark is no longer just an ordinary girl living an ordinary life. After the transformative six months spent with Will Traynor, she is struggling without him. When an extraordinary accident forces Lou to return home to her family, she can't help but feel she's right back where she started.

Her body heals, but Lou herself knows that she needs to be kick-started back to life. Which is how she ends up in a church basement with the members of the Moving On support group, who share insights, laughter, frustrations, and terrible cookies. They will also lead her to the strong, capable Sam Fielding—the paramedic, whose business is life and death, and the one man who might be able to understand her. Then a figure from Will's past appears and hijacks all her plans, propelling her into a very different future...

For Lou Clark, life after Will Traynor means learning to fall in love again, with all the risks that brings. But here Jojo Moyes gives us two families, as real as our own, whose joys and sorrows will touch you deeply, and where both changes and surprises await.
I received this book for free from the author or publisher in exchange for an honest review. This does not affect my opinion of the book or the content of my review.
Review:
It took me a long time to decide to read Me Before You (review). Whenever a book has a whirlwind of hype surrounding it I tend to tread lightly. It turns out that I absolutely loved the story. It pulled at my heart strings from the very beginning and then left me with a gaping hole by the end. After I finished Me Before You, I noticed that After You was coming out in just a few weeks. I was both elated and very apprehensive but alas, my curiosity won out and I decided to dive in. While I'm glad I took the plunge, I have very mixed feelings about the necessity of After You.
You're going to feel uncomfortable in your new world for a bit. But I hope you feel a bit exhilarated too. Live boldly. Push yourself. Don't settle. Just live well. Just live. Love, Will.
After You takes place a year and a half after Will's death. Lou is now living in London and bartending at the local airport. Her life is a far cry from what Will had requested for her. He had wanted her to live but it's clear Lou is just existing. It's not until Lou has a terrifying accident that she realizes she needs to make some changes. She moves back in with her parents temporarily and begins attending a grief support group.
After You was seemingly written to give fans of Me Before You some form of closure and update on the characters. I was excited by the prospect of seeing what was next for the characters, particularly Lou. However, I was a little disappointed by Lou. Obviously she experiences a great loss at the end of Me Before You but what made her so comical and endearing previously didn't seem to translate to After You. I just didn't love her as much this time around. At first I thought it was the absence of her banter with Will but I realized it was more than that. Lou just didn't feel as three-dimensional as she did in Me Before You.
Another small issue I had with After You was the way the Traynors were tied back into Lou's life. I didn't think there would be a lot of contact between Mr. and Mrs. Traynor and Lou due to the painful way Will died and because neither seemed like overly warm and affectionate people in general. However, the way they were tied back into Lou's life was a bit too much for me. I won't say much more as I don't want to spoil anything but it just didn't feel right to me.
I did like Moyes ability to make readers feel the pain Lou felt and the complexities of Lou letting someone else in after Will. I appreciated the way that Moyes not only showed Lou's difficulties with beginning another romantic relationship but also her difficulties reconnecting with her family, the Traynors, and Nathan.
Overall, I found the plot of After You to be engaging and entertaining but it just did not live up to Me Before You. While I didn't expect it to be nearly as emotional nor did I think it would be as thought-provoking, I was disappointed with Lou's characterization and the way the Traynors were tied back into Lou's life. What really made this book special was the beautiful way Moyes captured the grieving process and the question of how do different people in a person's life move on after they're gone. While I enjoyed this book, I know that not everyone will and that some readers may take issue with the pseudo-closure the story provided. I would like to emphasize that while his book was just okay for me, it will not dissuade me from reading other books by Moyes. I really enjoy her writing style and her wonderful way of telling stories that pack an emotional punch.
---